Jurassic World: Dominion Dominates Fandom Wikis - The Loop
Play Sound
Daphne Blake (Cyber)
First Name
Daphne
Last Name
Blake
Aliases
Cyber Daphne
Status
Alive
Occupation
Amateur sleuth
Affiliation
Cyber Mystery Inc.
Relatives
Appears in
Scooby-Doo and the Cyber Chase
Actors
Grey DeLisle
Daphne Blake is a member of Cyber Mystery Inc.
Biography
Cyber Daphne was created by Eric for the Scooby-Doo video game he made. He based her off of the Daphne he knew in high school, as seen in her appearance. Little is known about her life before Scooby-Doo and the Cyber Chase, but once Cyber Mystery Inc. arrived at level 10 inside the game, they stayed there because they liked it more than the other levels. After meeting the real-world Daphne in the game, Cyber-Daphne went to the boardwalk where she ran into the Phantom Virus and the other monsters. Cyber-Daphne then teamed up with the real Daphne to defeat the Creeper. They then returned to the arcade, where they helped the rest of Mystery Inc. and Cyber Mystery Inc. defeat the Phantom Virus. Once he was defeated, Cyber Daphne said good-bye to Daphne and the rest of Mystery Inc. and chose to stay inside the game. She can later be seen waving to Mystery Inc. from inside Eric's laptop.
Appearance
Cyber Daphne retains the appearance of the Daphne Blake from the Original Scoobyverse. She wears the same outfit (however, it's shown in higher contrast due to better computer technology) and has the same hair style. She also retains the hollow black eyes of Daphne.
Personality
Cyber Daphne is more aligned with the Daphne Blake from the Revival Universe. She is more independent and less of a damsel-in-distress than the Original Scoobyverse Daphne, most likely because of the time it was made.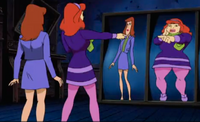 However, Cyber Daphne is more ditzy than the real Daphne, which is probably because that's how Eric remembered her. Inside the haunted house at the carnival, Cyber Daphne relies on the real Daphne to discover the trap door, recognize the carnival mirror, and trap the Creeper, although Cyber Daphne did help some.
Appearances